Delectable Swiss dishes can be found in all corners of the country, but there's a particularly tasty concentration of gastronomical delights in the southwestern Lake Geneva Matterhorn Region or LGMR. Savor the flavors, intoxicating aromas, and distinctive tastes of the region by following the A1, A9, and 9 motorways from Geneva. The route leads around the northern shore of the lake through Lausanne, curving southeast to Martigny then farther east into the Rhone Valley before heading south to the Matterhorn area. Along the way, you'll encounter everything from budget-busting Michelin three-star restaurants to more affordable cafés, brasseries, and après-ski lodges. Favorite local fare includes local lake fish; wines such as Chasselas (called Fendant in the Valais), Gamay, and Pinot Noir; and the Valais favorite raclette—derived from the French verb meaning "to scrape"—created by scraping off a heated wheel of cow's milk cheese and served with potatoes, pickled onions, cornichons, some dried ham, and a sprinkle of fresh pepper.
Travel tip: A standout place for raclette is Sierre's Chateau de Villa, a 16th-century castle with open-air dining and a great wine collection. The chateau is about a ten-minute walk, slightly uphill, from the train station.
St. Moritz is the birthplace of winter sports. Even if you don't partake, you can toast them here at an iconic skeleton bar. In the 1860s, hotelier Johannes Badrutt built a special sledging track to lure British tourists during the winter months. The 200-yard ride from his Kulm Hotel to the lake below was a hit (the roads are now home to Jimmy Choo, Valentino, and other shops). Eventually the luge (a sled ridden while on your back), the skeleton (a sled ridden in a prone position), and the bobsled were born.
"Sledding used to be something the crazy English did," a bartender at the Kulm Hotel's Sunny Bar explains. "Now locals do it all the time." The bar is ground zero for luge or skeleton fans. (And seriously, who isn't one?) Fronted by a wide window overlooking Lake St. Moritz below, the oldest bar in the Alps honors skeleton glories past and present. Lining the walls, photos tell tales of the one-of-a-kind St. Moritz Tobogganing Club, founded here in 1887. Shots show the stoic faces of triumphantly bearded riders in kilts, others in "Margaret Thatcher drag," or a smiling guy in a hospital bed hoisting up a newly broken arm. It's that kind of club.
Soon after the original track was made came the Cresta Run—a famed skeleton/bobsled track from the 1928 and 1948 Winter Olympic Games, both held here. It's still going.
Travel tip: For "reasons that are not clear," only men are allowed to use the Cresta Run, with lessons offered for beginners. Anyone can ride the one-minute "bob taxi" that slides over ice in winter.
Celebrate the real "Swiss cheese" on a cheese road trip
Emmental region
When the world says "Swiss cheese," it's usually the hole-pocked Emmentaler they're talking about. But there are 450 other types of "Swiss cheese," and only a third of the national production of 180,000 tons per year ever leaves the country. This makes for blissful road-trip inspiration: crisscrossing the country and sampling as many as possible.
Let's start with the most famous one. Made in giant oblong chunks, Emmentaler is named for a region east of Bern, a hilly cow country with restaurants serving ämmitaler ruschtig, fine foods of the region. Its famed holes are, as Diccon Bewes writes in Swiss Watching, "where tradition and technology really do come together." It turns out the holes, or "eyes," are made by trapping carbon dioxide during production. Varied temperatures lead to various sizes. Of the other Swiss cheeses, be sure to watch for icons like the spicy, smelly Appenzeller, rich in fat; the Tête de Moine (or monk's head), sprung from a Jura Mountains monastery in the 12th century; creamy Tilsit from the Bodensee region; or the hard, Parmesan-like Sbrinz from Brienz, which wooed Romans back in the day.
Travel tip: If you go by car, watch for village farmers markets and especially self-pay alpencheese stands on roadsides to pick up a quick, fresh sample.
Eat Swiss chocolate
Everywhere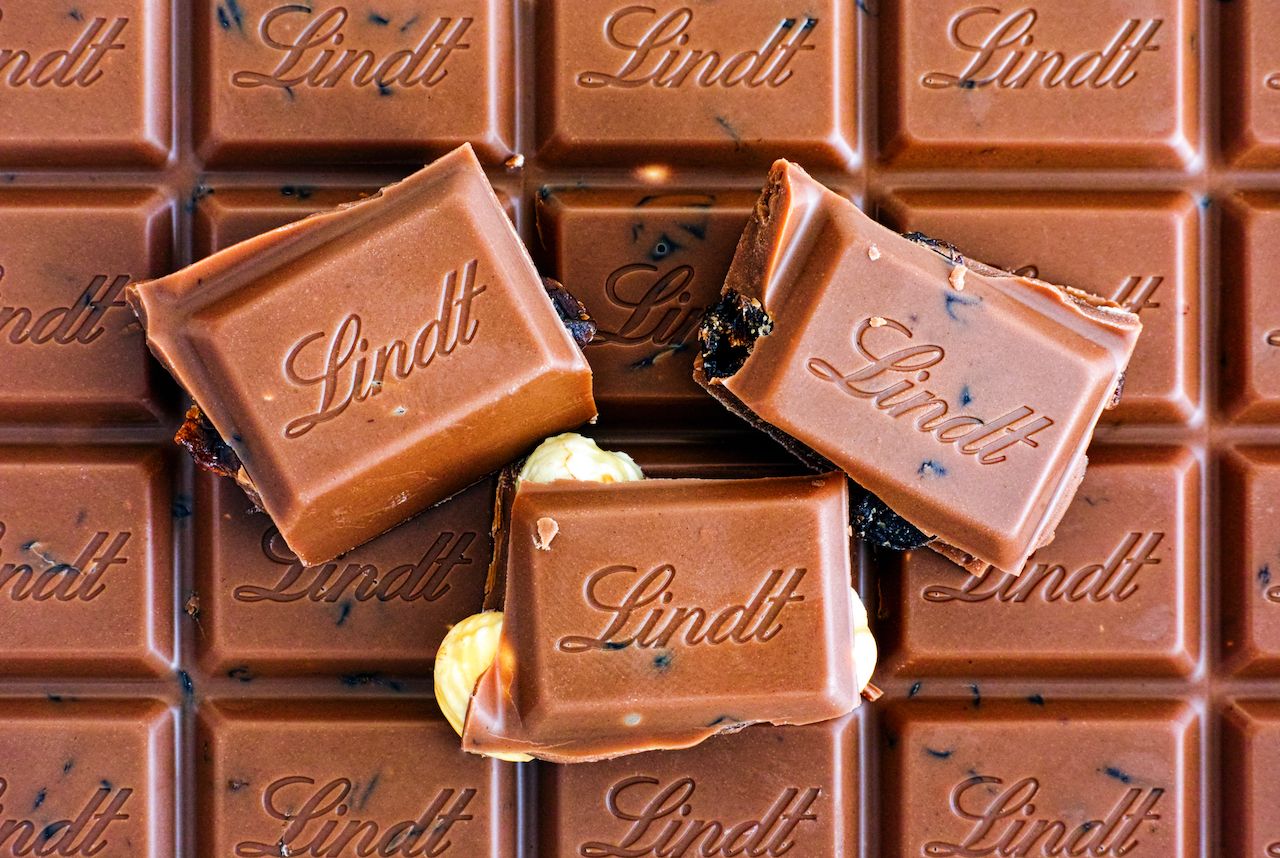 Only Switzerland, with all its bell-clanging cows, would think to infuse the imported cocoa bean with milk. That's what happened in the 1800s, when many early chocolate pioneers—some bearing the familiar surnames of Cailler, Tobler, and Nestlé—turned a faddish bean into irresistible portable bars, the cocoa mixed with hazelnuts and smoothened with milk. They not only made Swiss chocolate (schoggi in Swiss German) a household name globally, but created the snack of dreams.
In Switzerland, you must eat chocolate. Locals do, eating over 23 pounds per person per year (that's about a bar a day). And you find it everywhere, in big chocolate factories, at side-street chocolatiers, and in vending machines. It's world class, of course, plus it's said eating it can help you win a Nobel Prize.
A hugely popular place—reached by the Swiss Chocolate Train from Montreux—is the Cailler Chocolate Factory, which offers insight on how François-Louis Cailler created the world's first chocolate bars in 1819. You can study chocolate-making here too, or learn to make chocolate pralines at Lausanne's Chocolaterie Durig.
Travel tip: Other chocolate highlights include the two-day chocolate festival in Versoix, outside Geneva, in March, and Lugano's Alprose Chocolate Museum.
Eat fondue
Fondue is French for "melting," but the art of dipping breads into a bubbling communal pot of goopy cheese is such an ingrained Swiss institution that fondue was featured in the Swiss installation at the 1964 World's Fair.
Locals tend to only order fondue in winter. But the right to fondue is practically mandated by law. Recently, a couple of Zurich boutiques protested the cheesy smell of a neighboring restaurant's fondue. A three-year fight eventually landed in court, where the smell was determined to be "normal," thus ruling in Switzerland's right to fondue, any time, any place. As the manager of Zunfthaus zur Zimmerleuten told the Guardian, "It's definitely a good win for the Swiss cheese."
So go for it in July too.
Travel tip: Another key fondue destination is Gruyères, about 90 minutes northeast of Geneva, where the Chalet de Gruyères plays up the area's Alpine glory with its motié-motié cheese (part Gruyère, part Vacherin).
Binge on bündnerfleisch
In the Engadine Valley outside St. Moritz, you might notice many bucolic chalets sporting a curious porch item: girthy chunks of raw meat hanging to air-dry for weeks and weeks. The valley is the humble origin of the beloved bündnerfleisch, a tasty, tender, paper-thin jerky. You find it plopped on salads, packing dumplings, served with bread and wine, or just eaten solo.
Common around the country, this smoked dried meat is especially at home here in Graubünden in southeastern Switzerland. In the ritzy ski hub of St. Moritz, it's served at most restaurants or at stylish delis like Hatecke, where you can buy in bulk or have them cut thin slices of beef or venison ham on their vintage slicer.
Incidentally, bündnerfleisch made a political splash in 2010, when one Swiss politician broke into hysterics trying to say the name. (It is sort of a funny name.)
Travel tip: If meat's not your thing, at least try bündner nusstorte, a local nut pastry served in St. Moritz delis.
Get your picnic at a farmers market
The joy of a hike begins with choosing your trail snacks, which can perfectly be done at Swiss farmers markets nationwide. These are where you can readily sample some of the 450 types of Swiss cheese fresh from the mountains, along with cervelat and other sausages and, particularly, the underrated breads.
The Swiss love their bread. According to the online magazine Newly Swissed, locals see Switzerland much more as the land of bread than of cheese or chocolate. There are over 200 types, including varieties from each of the 22 Swiss cantons.
For Sundays, you'll want to try the braided zopf, a soft bread served with jams. A quick, popular boost for hikers is a piece of bündner birnenbrot, a pastry-like loaf packed with what's essentially a trail mix of raisins, nuts, and various dried fruits.
Where to start shopping? Everywhere, such as Brig, off the Glacier Express train line; Thun, in the Bernese Oberland; or the Old Town in Chur (Switzerland's oldest city). Lucerne's excellent market (on Tuesdays and Saturdays) is atmospherically spread along historic walkways on both sides of the city's historic Reuss River. Zurich's Helvetiaplatz market, on Tuesday and Friday mornings, has a more international vibe.
Travel tip: Most towns host Saturday farmers markets, typically opening early in the morning. Operating hours may be based on the season, so ask around at your location.